Senior Product Designer (Project Based Role)
Runyon is crafting a new agent digital experience for a Fortune 200 financial services company, and looking for a Senior Product Designer to join the team. This role would lead all UX prototyping and high-fidelity design for a new experience moving next into development for market launch.
Product Designers at Runyon lead the creation of customer-centered concepts, prototypes, and front end designs. They have deep empathy for user needs and behaviors with a solid understanding of how to leverage design research, and understand how to express business, brand, and growth strategy in products. They have great depth in high-fidelity design (including UI / visual design), strong attention to detail, and a love for fleshing out the details of design systems with a solid understanding of development strategies.
Contract: 8 weeks beginning June 13, 2022, with possible extension through end of the year
Runyon is a product design and venture studio that helps companies grow. We are a team of customer-centered designers and strategists that crafts new products, experiences and ventures. Our approach combines customer needs and behaviors with leading edge business strategy. Our work is sprint- and prototype-driven and we think about how we can launch products into market in ways that are meaningful and measured from the start. Our team has decades of experience working with some of the largest global client partners including The New York Times, Disney+, Target and others.
Why Runyon's Different
We're prototyping-led. We lead with tangible assumptions in the form of prototypes and test them with real stakeholders to validate and refine our strategy and design. Regardless of discipline, we think and communicate in concepts, and use those to move further, faster.
We're detailed and intentional. We always back up our design decisions with sound reasoning—be it user research, market research, or both. We make things that make sense and that have a clear through line.
We're fast. We work almost exclusively in sprints, and with lean teams. We need folks who like to run.
We're collaborative. We jam as a multidisciplinary team of specialists who collectively contribute to the full spectrum of work across user research, strategy and design to arrive at high quality outcomes.
Requirements
Responsibilities
Engage with design research, design directors, and client partners to understand design success criteria.
Generate or translate insights from qualitative design research sessions into UX/UI concepts and iterations.
Shape product strategy for new products and ventures.
Craft strategically sound concepts, functional and beautiful user flows, and interactive prototypes.
Communicate clearly with teammates, and present work appropriately (verbally and in client-facing decks).
Qualifications
Master's degree preferred or Bachelor's degree / equivalent in Human Computer Interaction (HCI), UX Design, or a related field of study.
Deep vocabulary of existing UX patterns and modern UI aesthetics, demonstrated in a variety of projects (both responsive web and native app).
Multiple projects demonstrating leadership and craftsmanship in either zero-to-one product/service design OR design system creation and implementation.
Experience creating and maintaining design systems, including collaboration and communication with engineers and an understanding of development constraints.
Expertise setting up Figma files for wireframes, visual designs, prototypes, and design systems.
Great communication and time management abilities, including the skill to direct and manage small teams.
Sample Deliverables
For research sprints: Lead the team on idea generation and concept visualization that ranges from quick lo-fi sketches to clickable prototypes. Should be able to turn around in 1-2 days, depending on needed fidelity.
For final/end of phase: Lead the creation and presentation of detailed user journeys that include copy-driven stories with accompanying concepts (fidelity determined by brief, but should be able to create range from hi-res sketches to "looks like" click throughs) delivered in a 2-3 week timeframe.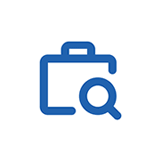 For partnership, press or other inquiries email us at
Sign up for our email list
© 2022. Products By Women