Power every brand.
Choozle is an all-in-one marketing platform, powered by people who are experts in digital marketing. Choozle was founded in 2012, with a goal to simplify the digital marketing landscape through software and has remained consistent with their approach as the space has evolved dramatically in the last 10 years. Our purpose is to power every brand and we do this by helping brands understand what will work for them, activate their marketing spend, and grow their business.
Have you wondered what it would feel like to be truly empowered to do your best work and level-up your skills daily? Are you interested in turning the most frustratingly complex expensive technology to a delightfully frictionless experience that is accessible to all? Have you ever stretched out your 8 octopus tentacles to achieve an ocean of success? Okay, maybe not , but we can offer a place that you will truly level-up, do your best work, and build delightful digital experiences.
We are a product-led organization that goes above and beyond to lead the industry for best places to work. Seriously, we've won awards for it… like a lot: . At Choozle, we invest in our people and believe they are the single most important thing at our organization.
We make a difference for brands because we care about our people.
Interested yet? Here is what you will be doing…
You will work from concept to delivery to inform product strategy and shape our brand's marketing growth experience.
Partner with product and engineering to ensure projects are well defined, high impact, and successfully executed.
Develop and improve a shared product design language across our platform reflective of our brand.
You level-up the entire team through commitment to growth and mentorship.
You ship design to users. The work you will be doing will be put in front of our users frequently.
Here is the experience we are looking for…
Prior experience of leading design on SaaS and/or consumer products across web and mobile.
Familiarity with human centered/user centered design methodology and techniques.
Experience working with engineers and product managers to drive strategy, vision, and execution.
You are collaborative, you don't have an ego. You play well in a diverse environment.
You have a strong portfolio of awesomeness showing off your product design prowess.
Product Design at Choozle
We're designing the future of marketing for brands. Starting with what they have, both resources and knowledge, to experiencing growth first hand by doing the most with what they have. We're committed to understanding and powering each brand as they navigate the complexity of the digital marketing landscape.
Our design team is new and growing, this is a greenfield opportunity to shape the team. We collaborate with every team across Choozle from Product Management to Engineering; from Sales to Support, because we believe that everyone has great insights that drive to better design outcomes. Creativity thrives when your environment is diverse. We're committed to growing a design team that reflects the diversity of people and brands we power and support.
Compensation 120,000-150,000
In Addition To Salary, Choozle Offers:
Company Equity
$100 Monthly Wellness Stipend
$100 Work From Home Stipend
$1,000 Education Stipend ($250/a quarter)
Public Transportation Stipend
Self-Managed Time Off
11 Paid Holidays
Remote Work Flexibility-Hybrid
401k Contribution/Match (3%)
$1,000 Employee Referral Bonus
Medical HSA Employer Paid At 100%
Employer contributions into HSA employee only account
Medical PPO & Dental Employer Paid At 90%
Employer Covers Up To 50k Of Life Insurance
Upgraded Options, & Voluntary Additional Life Plans Available.
Employer Paid Short & Long Term Disability Provided.
2 Employer Provided Employee Assistance Program (EAP)
70% Of Dependent Premiums Covered.
Nitro Coffee, Tea, Kombucha, Soda, Waters, & Various Snacks Available In Office
Multiple Chances To Win Gift Cards Weekly
Expense 2 Meals A Week Up To $20
Various Employee Activities & Team Building Adventures
Work-Life Balance
What To Expect:
Resume Review
People Operations 30 minute Phone Screen
Portfolio Review
Manager Interview 45 minutes
Team Interview 45 minutes
Deliberation/Contingent Offer
Background Check
Official offer
Choozle is an Equal Employment Opportunity (EEO) employer and welcomes all qualified applicants. Applicants will receive fair and impartial consideration without regard to race, sex, color, religion, national origin, age, disability, veteran status, genetic data, or other legally protected status.
Other Duties Please note this job description is not designed to cover or contain a comprehensive listing of activities, duties or responsibilities that are required of the employee for this job. Duties, responsibilities and activities may change at any time with or without notice.
Physical Demands The physical demands described here are representative of those that must be met by an employee to successfully perform the essential functions of this job. While performing the duties of this job, the employee is frequently required to sit. The employee is occasionally required to stand; walk; and use hands to finger, handle or feel controls. The employee must occasionally lift and/or move objects up to 10 pounds. Specific vision abilities required by this job include close vision and distance vision. This is largely a sedentary role; however, some filing is required. This would require the ability to lift files, open filing cabinets and bend or stand on a stool as necessary.
Pre-employment Requirements A criminal background check is required for any applicant receiving a conditional offer of employment. Background checks serve as an important part of the selection process at Choozle. This type of information is collected as a means of promoting a safe work environment for current and future Choozle employees. Background checks also help Choozle obtain additional applicant related information that helps determine the applicant's overall employability, ensuring the protection of the current people, property, and information of the organization.
Powered by JazzHR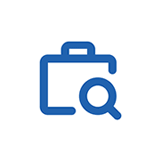 For partnership, press or other inquiries email us at
Sign up for our email list
© 2022. Products By Women